sigrira's story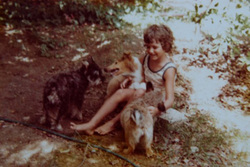 There has been one central theme in Sigrira Perret-Gentil Savitski's life - a deep connection with animals.
Raised in Curaçao, Netherlands Antilles, Sigrira grew up with dogs, rabbits, goats, chickens and cows. She considered them her siblings and throughout her whole life she has never felt a difference between animals and people.
At 12, Sigrira and her family moved to Greenville, South Carolina and she especially loved the year she was able to attend the Fine Arts Center of Greenville County, the state's first specialized arts school for talented high school students. At 18, based on her feeling of equality with animals, she became vegetarian and now is vegan.
Sigrira was drawn to parapsychology and based on her voracious interest in the world and all forms of life, she savored her college semester at sea where she was given the opportunity to travel around the world. In 1996, Sigrira earned her BA in Psychology from Emory University in Atlanta, Georgia.
She fell in love with a wonderful man who shares her love for animals and a few years later, Sigrira married Steven J. Savitski. In 1998, they became interspecies parents when they adopted their two sons, Jarvis and Juneau, and she subsequently published a beautiful book about them,
Cats in the Family.
Sigrira's interest in photography that was initially awakened in the wonderful year at the fine arts school and fostered throughout college, was re-awakened as she began graduate school in 2000. Although sometimes reluctant for students to focus their photography on animals or children, her thesis committee recognized Sigrira's deeply connected experience with animals and supported the selection of Jarvis and Juneau as the focus of her thesis. Sigrira earned her MFA in Photography from Georgia State University in 2003.
Sigrira began teaching photography in 2005 at Oglethorpe University in Atlanta, GA. First as an Adjunct Professor of Photography & later as a Lecturer in Art. Starting in January 2017 she left this position in order to dedicate herself fully to her animal intuitive work. Sigrira does continue working on her own photography projects, since her goal with these has always been to help people see animals as equals. She is recognized as an outstanding animal photographer and her work has been highlighted in a variety of different exhibitions across the country.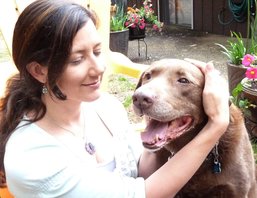 Sigrira's gifts began surfacing in 2007. First, her beloved uncle passed away and through a medium, she was able to connect with him. During the last ten minutes of this connection, he talked with her about the expanded awakening that he saw coming for her soon. One of her beloved sons, Jarvis, had lifelong digestive challenges and in 2008, Sigrira began studying Reiki to help alleviate his suffering. A little over four years later, Jarvis developed a cancerous tumor, and for many hours each day, Sigrira, by then a Reiki Master, eased his suffering with Reiki. Jarvis has subsequently told Sigrira that he lived longer because of the "colors that rushed through his body." In addition to the omnipresent help Sigrira gets from her beloved Juneau, now also in spirit, Jarvis is a key guide for Sigrira. When she works with other animals (and humans) Jarvis often jumps in, and as needed, also connects with the animals and their guides. He is also a great source of personal guidance for Sigrira and repeatedly tells her that she is meant to help many. Sigrira now assists people internationally to connect with their animals, living or in spirit.

Sigrira Perret-Gentil Savitski, Animal Intuitive, communicates fluently in a psychic language with all life forms including trees and plants, all animals including domesticated, wild and in spirit and with humans in English, Spanish, Dutch and Papiamentu. She envisions a world where we transcend species and understand each other as equals through love.